The Odds of Recovery
a film by Su Friedrich
65 minutes, Color, USA, 2002, 16mm
DVD includes: English and Spanish Subtitles,  Scene Selections, Bonus Films "Head of a Pin"
Synopsis
After a twenty year period of multiple illnesses and injuries, Friedrich turns the camera on herself as a way to analyze her chances for a happier, healthier life. In the process, she captures the frustration, tedium and petty annoyances of a revolving-door relationship with the medical establishment, while portraying the complicated web of emotions that accompany any medical problem. With humor and honesty, 'The Odds of Recovery' uses the filmmaker's medical history as a means to address a perennial human problem: the desire to avoid conflict and deny the need for radical change.
Plus Bonus Film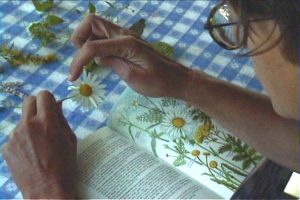 THE HEAD OF A PIN
a film by Su Friedrich
21 minutes, Color, USA, 2004, Video
"The Head of a Pin" reveals the awkward ruminations of the filmmaker and her friends as they attempt to learn about nature. Starting out as an examination of the differences between urban and rural life, the film turns unexpectedly into a wry portrait of what happens when city dwellers encounter a country spider.
Reviews
"…plays with the genre of the self-portrait…all in interwoven layers of narrative…allows us to see a life and a relationship through these transparent and yet illuminating layers." Brian Kiteley English & Creative Writing, Duke University
"Friedrich makes flinty and form-minded, extremely pragmatic, highly personal, affecting movies." J. Hoberman, The Village Voice
"Friedrich's latest feature takes a sometimes discomfiting but engrossing, good-humored look at her own long history of medical problems…Deftly assembled pic captures the frustration, tedium and petty annoyances of a revolving-door relationship with medical practitioner.."Recovery" [also] nicely limns the satisfaction brought by creativity in the kitchen and garden, with latter's seasonal changes providing an overall conceptual frame…Nearly one-woman package is confidently assembled, with plenty of hands-on authorial flavor." Dennis Harvey, Variety