The Ties That Bind
a film by Su Friedrich
55 minutes, B&W, USA, 1984, 16mm
DVD includes: English and German subtitles, Chapter Markers and Bonus Film "The Lesbian Avengers Eat Fire, Too"
Synopsis
"The Ties That Bind" is a powerful meditation on political responsibility and personal loss as seen through the story of the filmmaker's mother, who grew up in Nazi Germany. Using rare archival footage, extensive interviews and critical commentary, Friedrich constructs a fearless dialogue between past and present, between mother and daughter. "The Ties That Bind" engages in a profound search for an understanding of history, and challenges us in our responsibility for the present.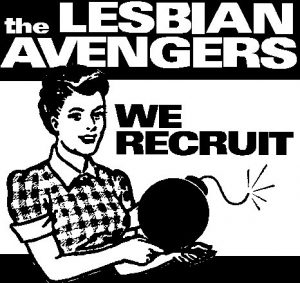 THE LESBIAN AVENGERS EAT FIRE, TOO
a film by Su Friedrich, co-directed by Janet Baus
55 minutes, color, USA, 1993, Video
This film documents the first year of actions by The Lesbian Avengers, a group of bold and brazen New York City activists fighting for recognition and equal rights for lesbians everywhere. We recruit!
Plus Bonus Feature Film
Reviews
"'The Ties That Bind' is one of the most moving and profound films about the mother-daughter relationship. Blending documentary and experimental modes, Friedrich investigates her mother's background as a German citizen during WWII–an issue that has vexed her daughter during her youth. While her mother is shown on-screen and is heard acoustically, the filmmaker remains "silent" but voices her thoughts through titles scratched into the film emulsion. In so doing, Friedrich creates a beautiful and powerful film in the tradition of Michelle Citron's earlier 'Daughter Rite.'  Lucy Fischer, Professor, University of Pittsburgh
"The best of New Directors/New Films…The film is an original, a moving and courageous tribute from a child to a mother's beleaguered memory." David Edelstein, Village Voice
"On every level, Friedrich's films are resonant with thought and craft." Scott MacDonald, Film Quarterly