Damned If You Don't
a film by Su Friedrich
42 minutes, B&W, USA, 1987, 16mm
Languages: English, German
Synopsis
"'Damned If You Don't' is Friedrich's subversive and ecstatic response to her Catholic upbringing. Blending conventional narrative technique with impressionistic camerawork, symbols and voice-overs, this film creates an intimate study of sexual expression and repression. Featuring Peggy Healey as a young nun tormented by her desire for the sultry irresistible Ela Troyano.
Plus Bonus Films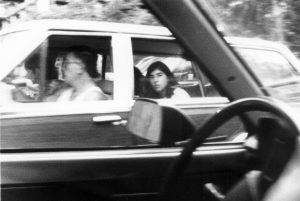 RULES OF THE ROAD
a film by Su Friedrich
31 minutes, Color, USA, 1993, 16mm
'Rules of the Road' is the story of a love affair and its demise through one of the objects shared by the couple: an old beige station wagon with fake wood paneling. Through spoken text, popular music and images from the streets of New York, 'Rules of the Road' takes a somewhat whimsical, somewhat caustic look at how our dreams of freedom, pleasure, security, and family are so often symbolized by the automobile.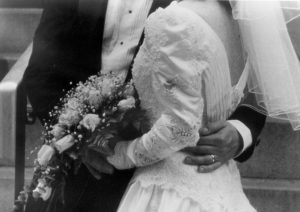 FIRST COMES LOVE
a film by Su Friedrich
22 minutes, B&W, USA, 1991, 16mm
Friedrich's film is a sumptuous and deeply felt examination of the timeless ritual of marriage. Gorgeous footage of four traditional weddings captures the emotional ambiguities of a cultural event with which everyone is familiar.
Reviews
"'Damned If You Don't' is a real prize. Beautifully shot in black and white, it blends conventional narrative technique with impressionistic camerawork, symbols and voice-overs to create an intimate study of sexual expression and repression. The film is as hypnotic as a dream." Andrew Rasanen, BAY WINDOWS
"The film energizes feminist deconstruction by locating it within a context of at least two forms of (redirected) film pleasure: the excitement of melodramatic narrative and the sensuous enjoyment of cinematic texture, rhythm and structure." Scott MacDonald, FILM QUARTERLY
"Passionate, genuinely innovative…a lyrical evocation of the mystery of memory and the development of sexual identity." Amy Taubin. THE VILLAGE VOICE