The Films of Su Friedrich
THE FILMS OF SU FRIEDRICH 7 VOLUME COLLECTION OF 15 FILMS IS NOW AVAILABLE ON DVD+DSL FOR ONE LOW COST!
Since the 1970's, Friedrich's skillful mix of experimental narrative and documentary forms, filled with provocative feminist and lesbian themes, has made her a groundbreaking member of the avant-garde film community and a pivotal force in the establishment of Queer Cinema. This collection of DVDs includes the filmmaker's classic works such as SINK OR SWIM, HIDE AND SEEK, THE TIES THAT BIND, DAMNED IF YOU DON'T, THE ODDS OF RECOVERY, SEEING RED, GUT RENOVATION.
For additional information about each of the volumes, please follow the links below: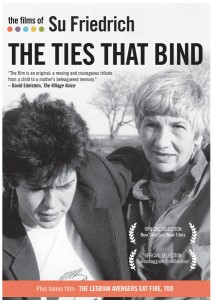 Volume 1
THE TIES THAT BIND (55 mins, 1984)
A powerful and meditative film on the political responsibility and personal loss as seen through the story of the filmmaker's mother who grew up in Nazi Germany.
with Bonus Film:
THE LESBIAN AVENGERS EAT FIRE, TOO
co directed with Janet Baus (55 mins, 1993)
This film documents the first year of actions by The Lesbian Avengers, a group of bold and brazen New York City activists fighting for recognition and equal rights for lesbians.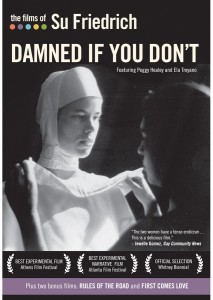 Volume 2
DAMNED IF YOU DON'T (42 mins, 1987)
Friedrich's subversive and ecstatic response to her Catholic upbringing.
with Bonus Films:
RULES OF THE ROAD (31 mins, 1993)
The story of a lesbian love affair and its eventual demise.
FIRST COMES LOVE (22 mins, 1991)
A sumptuous and deeply felt examination of love and marriage.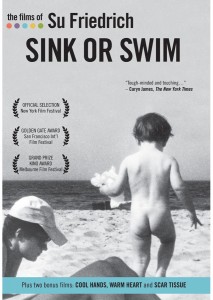 Volume 3
SINK OR SWIM (48 mins, 1990)
A contemporary classic and a landmark in autobiographical filmmaking, SINK OR SWIM is an unflinching account of the highly charged relationship between a daughter and her father.
with Bonus Films:
COOL HANDS, WARM HEART (16 mins, 1979)
A study in performance, voyeurism and the spectator. Private acts become public spectacles on a stage in a crowded street as women perform the familiar rituals of daily life.
SCAR TISSUE (6 mins, 1979)
Scar Tissue uses two sets of images–of men and women in midtown Manhattan and is structured so as to reproduce what is essential in the original event but also to undermine the original event.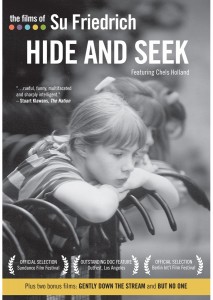 Volume 4
HIDE AND SEEK (65 mins, 1996)
The story of Lou, a twelve year old girl coming to terms with her budding sexuality in the mid 1960's.
with Bonus Films:
GENTLY DOWN THE STREAM (14 mins, 1981)
Gently Down the Stream can be described about as easily as you can hold on to a handful of water.
BUT NO ONE (9 mins, 1982)
The visual material of But No One corresponds to the waking world of the filmmaker, but it is cast in the form of a dream.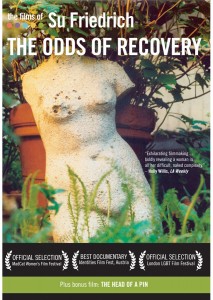 Volume 5
THE ODDS OF RECOVERY (65 mins, 2002)
Friedrich turns the camera on herself as a way to analyze her chances for a happier, healthier life.
with Bonus Film:
THE HEAD OF A PIN (21 mins, 2004)
The Head of a Pin reveals the awkward ruminations of the filmmaker and her friends as they attempt to learn about nature.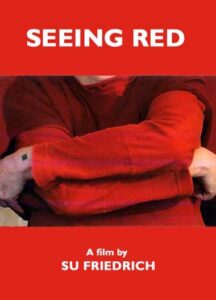 Volume 6
SEEING RED (27 minutes, 2005)
In this, one of her most deeply personal films to date, Friedrich takes a look back at her evolution both as a woman and as an artist, tackling her own insecurities via several on-camera diary entries.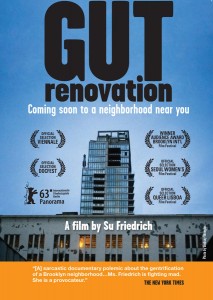 A documentary of small changes evolves into an historical record of New York. The resulting film is a melancholy, essayistic requiem for a neighborhood and an entire way of life; it also provides a case study of the rapid gentrification of our cities.